Disability Programs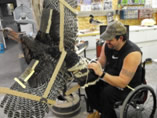 Pro Mount offers complete training programs for the disabled and works with both federal and state agencies to provide training for qualified individuals through State Vocational Rehab. Programs, and the Veterans Administration.
Pro Mount has a wealth of experience training the disabled to work in the field of taxidermy. We have developed various techniques and training programs especially designed to meet disability needs. With specially designed tables and work areas we can meet the needs of a particular disability. The school is happy to work with the disabled to identify a positive course of study that will be successful.
Pro Mount works with the student to identify what requirements are needed to adapt the course of study for the student. We consider physical limitations, time adjustments, adaptive equipment and special training in performing the physical work.
We have adapted training programs and trained people with disabilities in the following areas:
WHEELCHAIR BOUND
MUSCLE DISORDERS
BACK INJURY
POST TRAMITIC STRESS DISORDER (MILITARY)
ARTHRITIS
JOINT DISORDERS
PHYSICAL INJURES
DEGENERATIVE DISEASES
Each disability is unique to the individual and therefore no automatic set of rules applies. PROMOUNT will work closely with each student on an individual basis to establish a course of study that will meet the needs of the disabled person. This program will cover all aspects of the learning process. Call to set up an appointment to see if we can develop a workable plan.

Pro Mount will design specialty training programs that include adaptive equipment and training techniques designed to meet the personal requirements for the disabled student. The training program also includes designing specialty tools and equipment that may be required to perform the work.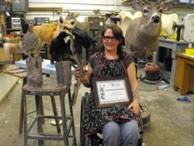 The instruction schedule is designed in" time segments" as required to allow for rest, stretching, or other physical requirements of the student. Instruction time can be scheduled for a full day, half day or as needed by the student.
Close attention is paid to positioning, stamina, pain, and all issues that need to be addressed to insure a proper environment for learning. Pro Mount and the student work together to design systems and methods that will allow the student to perform the specific taxidermy skill required.
All instruction is on a one on one basis that may include a spouse or supportive person who will be involved in assisting the disabled student.
Pro Mount does not offer group instruction.
Pro Mount does not have a time limit on program completion. The adaptive program takes as long as it takes.
Pro Mount offers adaptive training in all taxidermy courses: fish, birds, game head, life size, and general taxidermy.