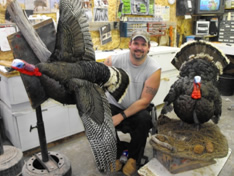 PRO MOUNT SCHOOL OF TAXIDERMY is approved by the state of Montana approving agency for Veterans and eligible dependents educational benefits.
GI Bill® is a registered trademark of the U.S. Dept. of Veterans Affairs (VA). More information about education benefits offered by VA is available at the official U.S. government website at: http://www.benefits.va.gov/gibill.
How It Works...

STEP 1: ESTABLISHING YOUR ELIGIBILITY
If you are unsure of your eligibility or extent of your total benefit package under the GI bill for veterans go to www.gibill.gov for assistances in identifying your benefits. Once your benefits have been established you will receive an eligibility form authorizing your benefits.
STEP 2: CONTACTS PROMOUNT
Contact PROMOUNT to set up an appointment to discuss your goals and develop a PRE-COURSE AGREEMENT PLAN.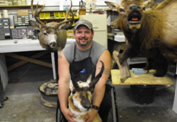 STEP 3: PRE COURSE AGREEMENT PLAN
1. Develops an individual plan of a course of study that meets the needs of the student.
2. Establishes a start and completion date for each course.
3. Establishes an attendance schedule.
4. Identifies time frame for eligible housing allowance.
5. States the exact cost of tuition and supplies.
6. Lists all taxidermy work to be completed by the student.
The PRE-COURSE AGREEMENT PLAN is than signed by the student and the school prior to submission to the VA. The entire program is pre approved by the veteran.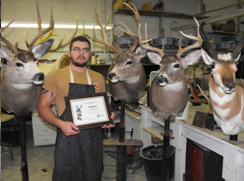 STEP 4: SUBMISSIONS
Chapter 31 programs and section 1606 and 1607 programs must be confirmed with the VA as to eligibility, school program submissions, system of payment to the school and system for housing payment.
Chapter 33 Post 9/11 programs are submitted by the school for direct payment to the school. Chapter 33 housing is paid directly to the veteran.

Pro Mount is available to assist the veteran in any way possible if you have questions, problems or concerns please do not hesitate to give us a call.
Pro Mount programs are approved by the State of Montana Approving Agency for Veterans. Pro Mount programs through the state of Montana Approving Agency are: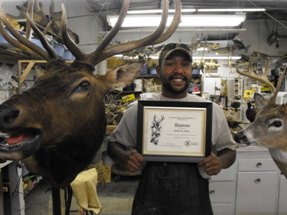 TAXIDERMY PROGRAMS
Game Head Taxidermy Program
Bird Taxidermy Program
Mammal/General Taxidermy Program
Fish Taxidermy Program
Combined Taxidermy Program
Specialty Taxidermy Programs:

Molding and Casting Program
Habitat Construction Programs
Complete Fish Painting Program
Deer Mounting Upgrade Program
Strutting Turkey Program
Restoration Taxidermy Program
Custom Designed Specialty Programs
Refer to student catalog for complete details on all programs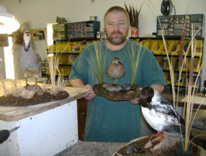 BUSINESS TAXIDERMY PROGRAMS:
Business Taxidermy Programs
Bookkeeping Systems for Taxidermy
Computer Operation for Taxidermists
Career Development Program
PRO MOUNT specializes in adapting all programs to meet the specific needs of a person with service related disabilities both physical and mental. Contact us to develop your individual training program.
All programs are pre-approved by the veteran before submission to the VA for payment directly to the school.