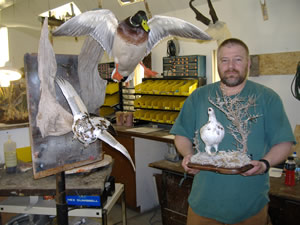 CONTRACT: At the start of class the student and the school will sign a contract detailing the financial and general policies to insure both parties are in complete agreement.
MOUNTS: In order to insure the proper level of instruction, students will not be permitted to perform work for anyone other than themselves without prior instructor approval. All work performed by the student becomes the property of the student. Work for friends, relatives, customers or personal will not be permitted.
TOOLS: All tools and equipment will be provided by the school.
SPECIMENS: Specimens are available for purchase through the school. School specimens are selected to assist in the learning process. With prior approval students may be allowed to furnish their own specimens. Every effort is made to minimize costs to the student. Upon completion a student can mount their own specimens after a proper level of development has been achieved. No personal work by the student will be permitted during the learning process. All taxidermy work performed at the school is the property of the student.

SUPPLY COSTS: At the beginning of each course the student will receive a price list of supplies for each individual course. Every effort is made to keep supply costs at a minimum. The student will be aware of the exact cost of each item for mounting and additional supplies before they are used and become the student's property. The supply bill is due and payable upon completion of the course.

PERFORMANCE: Pro Mount expects the student to demonstrate a positive attitude toward learning and to contribute to a positive work environment. The student understands that the teaching techniques and methods are designed for the students benefit. The student is required to follow all instructions and complete assignments in a timely manner to the best of their ability. Task completion in a specific order is essential to skill development. Speed is not an issue. As much time as necessary will be given to develop the skills necessary as long as the student is cooperating with the learning process.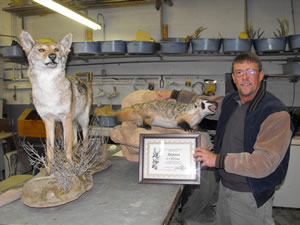 PROBATIONARY PERIOD: Pro Mount does not have a probationary period for unsatisfactory performance at the school. If a problem arises the student and instructor will have an evaluation session to resolve the issue or terminate the instruction.

GRADING SYSTEM: Pro Mount does not have a numerical grading system. Work is evaluated on each specific skill requirement. The student does not advance to the next level of instruction until proficiency is demonstrated in the discipline. There is no time limit in developing proficiency at any level of instruction. The skill is worked on until the student and instructor are satisfied proficiency has been achieved. Pro Mount evaluates each piece of work on a pass-fail system. If the work is judged unsatisfactory, corrections and adjustments will be made to the learning process until the student is able to meet school criteria in a required discipline.

ATTITUDE: Attitude is everything. The student is expected to contribute to a positive work environment at all times. Mutual respect, courteous behavior and proper manners and respect for the individual are basic requirements for a successful learning process. Bad language and rude or offensive behavior will not be tolerated.

ATTENDANCE: The student is expected to follow the schedule of instruction and attend all scheduled learning sessions and to be on time. A daily log as to time and subject matter covered will be kept. Schedules can be adjusted at the discretion of the school. The school reserves the right to adjust the curriculum at its discretion.
EVALUATIONS: The student will be evaluated in several ways:
1. Regular progress reports upon completion of each section. (Weekly)
2. Oral discussions (Weekly)
3. Work evaluations and critiques (daily)
4. Weekly evaluation sessions to determine successes and problems.
5. Daily work schedules.
6. Written proficiency record.
DISMISSAL: Pro Mount reserves the right to dismiss any student whose conduct or attitude is such as to create a barrier to the learning process. Negative attitude, lack of mutual respect or failure to develop a teacher/student relationship are acts of conduct which will result in termination from the program after one warning. The Pro Mount / student contract has complete information on dismissal.
REFUNDS: The deposit fee is $500.00 to reserve a slot and is refundable up to 2 weeks prior to the start of classes. The deposit will be applied to the total tuition. Full tuition is due and payable on the first day of class. Two weeks prior to start of class a $200.00 refund will be given. A full refund of tuition less $1000.00 after four days of instruction. (32 hours). Refunds will be adjusted at the discretion of the school up to forty hours of instruction. There will be no refunds after forty hours. Basis of refund up to forty hours is $200.00 per day refund policy does not apply to no. 7, no.9 or no. 10 of the student contract. Refunds will not be made for a minimum of 45 days after termination of instruction. Veteran refund policy is compliant with DVA regulation 21.4255 pro-rata policy.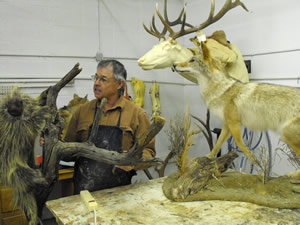 HANDICAPPED AND SPECIAL NEEDS: Pro Mount is handicapped accessible and welcomes any student with a disability. All courses will be adapted and taught with consideration for an any individuals special needs.

EQUAL OPPORTUNITY: Pro Mount School of Taxidermy is an equal opportunity school. All persons interested in learning the art of taxidermy are welcome regardless of race, creed, color, national origin, sex or disability.
HOUSING: A list of motels and rentals will be provided upon request.
EQUIPMENT LOSS OR DAMAGE: Student will be required to pay for any shop equipment damaged by them while attending the school.
GRADUATION: Upon demonstration of a professional level of competency in a specific area of study the student will receive a diploma from Pro Mount School of Taxidermy. Specialty courses will receive a certificate of attendance upon completion of the course.
SCHOOL MASCOTS: Pro Mount is the home of two shop cats who are always present to encourage and give moral support to the dedicated taxidermy student. They are very friendly and personable and make friends easily. The only concern is if you have allergies.
| | |
| --- | --- |
| Charlie | Princess |