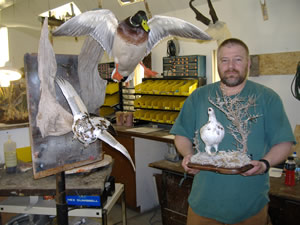 ATTENDANCE: Training schedule is 9:00 am to 12:00 noon, 1;15 TO 5:30 pm Monday through Friday. Doors open at 8:30 am. Students should arrive at least 15 minutes early to prepare for the day. Doors will be locked at 9:00 am. Late arrival is not acceptable. Our primary consideration being for students who follow the schedule.
PAYMENT POLICY: A $500.00 no refundable deposit is required to reserve a slot for a program. The deposit is credited to the total cost of the program. The balance, as stated in the Pre-Course Agreement Plan is due in full one week prior to the start of the student's program.
SPECIMENS: Specimens provided are designed to train the student in all types of problems and situations that are encountered daily in the real world. Examples include, slips in fur, cuts, spoilage, pin feathers missing fins etc. We train for the real world of taxidermy and problem solving. Our specimens are designed to achieve this objective.
EQUAL OPPORTUNITY SCHOOL: Pro-Mount is an equal opportunity school. All persons interested in learning the art of taxidermy are welcome regardless of race, creed, color, national origin, sex, or disability.

HANDICAPPED AND SPECIAL NEEDS: Pro-Mount is handicapped accessible and welcomes any student with a disability. All courses will be adapted and taught with consideration for any individuals special needs.

CURRICULUM: All programs are complete training in each discipline of Taxidermy. We do not take short cuts. If you want to be a taxidermist, you need to be trained in all aspects of a particular field. We do not do 2 game heads but 4, we do not do 2 birds but 6 or 8, we do not do 2 fish but 6 to 8, We train the student in all aspects of taxidermy from the time the client brings in the specimen to when it is boxed for shipping or pickup Review the curriculum in the school catalog for each program.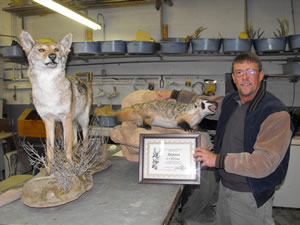 AGE LIMIT: Pro-Mount approves every student on an individual basis, age depends on the status and experience of the student.

WEEKLY EVALUATION: Student/school evaluations are held every Friday in private between the student and instructor. This is an open and honest two-way discussion on how the student is doing and how the instructor is doing. Purpose is to provide positive input in helping the student to be successful. Student gives input into how the school is doing and if any changes need to be made.

SCHOOL MASCOTS: Pro-Mount is home to 3 shop cats, Charlie Too, Princess, Axel, and one lab named Sarge. They are very friendly and personable and make friends easily. The only concern is if you have allergies.
| | |
| --- | --- |
| Charlie Too | Princess |